Crochet Necklace pattern with shells
This crochet necklace is inspired by the beautiful beaches of Western Australia. I was fortunate enough to have 4 months in Mandurah and Busselton, Western Australia where my husband was working. I picked pippi shells on the beach and decided to turn them into a beach-crochet-shell necklace! Here is a step by step crochet tutorial how you can make your very own crochet shell necklace.
This crochet pattern uses UK stitch abbreviation.
Special crochet stitches: Picot crochet stitch
Free crochet necklace pattern inspired by the Beach.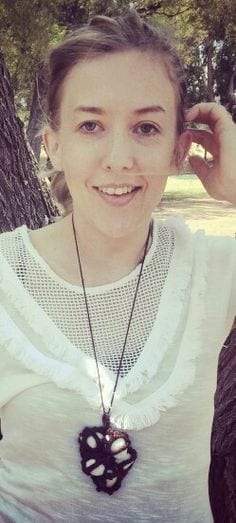 Materials:
Crochet hook size 2.4
Yarn: 100 % acrylic, brown color
Shells picked on a beach.
Crochet Necklace instructions step by step.
Ch 15, sl st in 1st ch to form a ring.
Round 1. *1 picot in sl st, 1 picot in every 5th ch, sl sts between chs, sl st in top of 1st picot*. Do not fasten off. Ch 15, repeat between **. Ch 2, turn, sk 1 st other half, 1 sl st, *ch 2, sk 1 st on other half, 1 sl st in next st*, repeat 5 times. Turn. Sl st in nearest picot.
Assemble your crochet necklace as described below.
Put your shells inside. Repeat process until all your shells are inside the little pockets. Sl st across all of pieces to attach them. If some Shells are loose inside the pockets, sk 1 sts, and sl st in next st to tighten up.
Crochet Necklace pattern using hairpin crochet technique
Click here to get this crochet tree of life necklace pattern.