How to Filet Crochet
This is a how to Filet Crochet Tutorial and links to free filet crochet patterns. 
Shop here for Filet Crochet patterns.
I named this website CrochetArtDesign due to the amazing images you can design using the Filet Crochet technique.
When you know how to Filet Crochet, you have learned a technique where you can create images using filled in spaces and open spaces. The picture below shows how you can decrease and increase at beginning and end of row.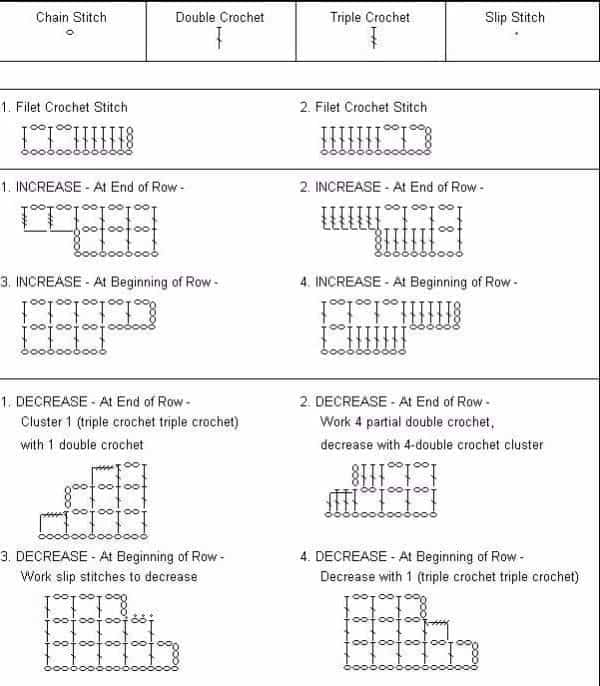 How to read a Filet Crochet pattern
Filet crochet patterns don't describe in text what to do row by row. Instead, they are diagrams with the symbols above. The symbols tell the person what kind of stitches to use. Filet crochet usually uses only Solid Mesh and Open Mesh crochet stitches. Sometimes Lacet Mesh, Long Mesh and Popcorn stitches are also used.
Please note that image below on how to read a filet crochet pattern is using US stitch terms.

The picture below shows what a finished filet crochet product can look like. Buy this filet crochet pattern here.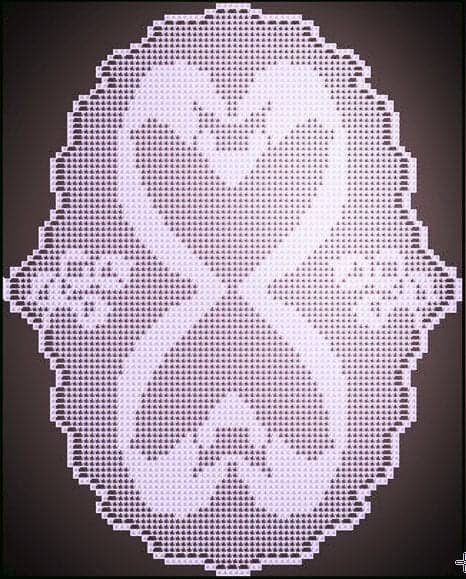 Free Filet Crochet Patterns
Check out my Free Filet Crochet Patterns here. Not all patterns under Filet Crochet patterns are free, but some are. The ones that are not free are very affordable in price.
Filet Crochet Software
I use filet crochet software to create my own unique patterns. I purchased the crochet software at CrochetDesigns by Sand Castle Design. Inc
The only thing you really need when making filet crochet patterns is TIME. Time is your greatest resource on this planet. You can spend your time either being creative and give the world something it has never seen before, OR not :) Enough of the pep talk. All I am saying is, At Least Give Creativity Some of your Time. You Deserve It.