How to crochet for Beginners
Learning how to crochet for beginners is easy. I learned it using crochet books only. Now there are so many more resources with Youtube for example. You can learn it in no time. The best thing is: There are no limits to the amazing things you can create with this simple technique. You will be impressing your friends and family in no time!
Free Bird Bolero Crochet Pattern
Click on image to get this pattern. Or Click Here to get this free bolero pattern.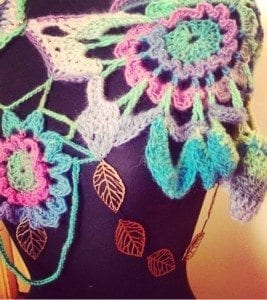 What do you need to Crochet
Every Crochet Beginner needs to know that all they need to get started is:
Number 1. A crochet hook.
Number 2. Yarn.
Number 3. Time.
How to hold a crochet hook
When holding a crochet hook you start by gripping your hand over the hook similar to holding a knife. Place your hand over the hook and position your fingers as if holding a pencil.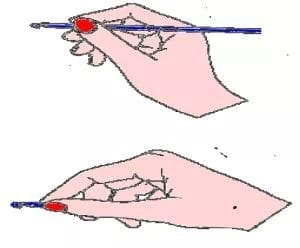 Make a slip knot
Every crochet project starts the same way; with a slip knot. When you have created a slip knot you are ready to go create a chain. In a crochet pattern, it starts by letting you know how many chains to make. After you have made a chain you start on your rows.
Crochet stitch conversion between us uk
US vs UK stitch conversion chart (this site uses both US and UK stitches). The picture below shows the old Irish crochet stitch words such as Plain and single stitch. Australian published crochet patterns often use UK abbreviation. One quick way to know if a pattern is US or UK is to see if the pattern uses single crochet stitch (sc). Sc stitches do not exist in UK crochet patterns.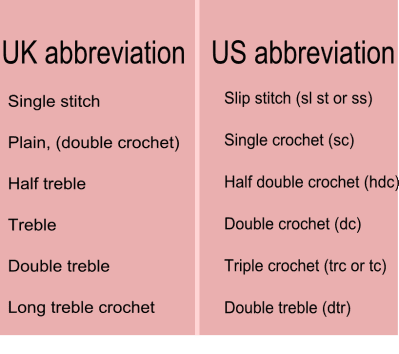 Check out Russian Stitch Translations.
Check out Swedish Stitch Translations.
Making crochet chains: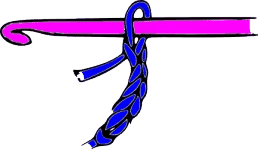 Single crochet (sc) stitches (US)
Insert hook in stitch, yarn over, pull loop through stitch, yarn over, pull yarn through both loops on hook.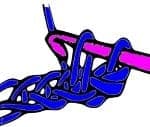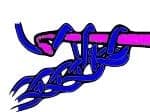 Double Crochet (dc) stitches (US)
Yarn over hook, insert hook in stitch, yarn over, pull loop through stitch, yarn over, pull yarn through the two first loops on hook, yarn over, pull through last two loops on hook.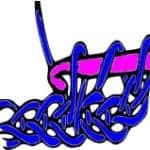 Treble stitches (tr) (US)
Yarn over (yo) hook twice, insert hook in chain or stitch, yarn over, pull loop through stitch, yo, pull yarn through first two loops, yo, pull through next to loops, yo again, pull through remaining two loops.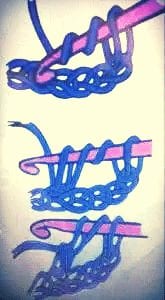 How to make different stitches
The different crochet stitches are determined by how many time you yarn over and draw yarn through loops on the hook.
Crochet Gauge sizes
Many patterns will tell you the size of finished item. If you want to ensure your item will be the same size as the pattern, you can check the gauge. The gauge is basically how tight or loose you crochet. With the hook and yarn you plan to use, create a block about 4 inches square and pin it to a flat surface. If your piece is bigger or smaller than the gauge indicated in the pattern, change to either a smaller or larger hook.
Crochet Hook Sizes
Hook Sizes refer to their thickness. US metrics use a letter, while UK and most other countries use a number. The higher the letter or number, the thicker (bigger) the hook. On CrochetArtDesign, I use mm, and my most common crochet hook size for my patterns is 3 mm. I find that 3 mm is the perfect size for amigurumi (unless it is miniature) and lace making (unless it is fine lace). For my miniature amigurumi projects, I use crochet hook size 1.25-1.9 mm. The smaller the crochet hook, the smaller the finished product.
Crochet size
Miniature crochet has become something of a trend. I love seeing tiny crochet creations. Some even crochet with sewing thread made for sewing machines.
Crochet Yarn Weight
Yarn weight is often displayed as ply. 1 ply, 2 ply, 3 ply are very fine yarn used in lace, and therefore also called Lace Yarn. 4 ply is superfine yarn. 5 ply is fine yarn. 8 ply is lightweight yarn. 10 ply is medium weight yarn. 12 ply is bulky yarn.
Yarn Weight and Hook Size
Thicker yarn often needs a thicker hook. For example, 4 ply yarn often needs a hook size 2.5-3.5. In Irish crochet, you are using lace, and the pattern will often say to use a small crochet hook size 1.25.  If you are crocheting using chunky yarn, a crochet hook size 6.0 or larger would be appropriate.
Crochet is relaxing and Meditative
If you are stressed, you might find that you are crocheting very tight stitches and your pieces are getting smaller and smaller :D And when you are relaxed, your crochet pieces are getting larger and larger. Since crochet is the most relaxing hobby ever, I don't think crochet with a large gauge will ever be a problem. I never take time to think about Gauge. I never test gauge. I just crochet and hope for the best.