How to crochet heirloom pendulum tutorial
I love crochet on the heirloom. It has become something of an obsession. This crochet pattern was made while experimenting on the heirloom and using beads for decoration. I trust you will have fun making this crochet heirloom pattern. 
Special stitch: Picot stitch.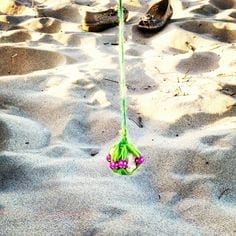 Crochet Materials
Heirloom.
Crochet hook size 3.0 and 1.o.
Yarn: Fayette 60 % Superwash wool + 40 % Polyamide.
Crochet instruction step by step.
Round 1. 1 sc each loop until 3 loops each side: 3 loops together with 1 sc. 3 loops together every round (each sc ends up one loop above the last). After 8 loops each side remove work from heirloom.
Round 2. Pull 2 loops through previous 2 loops twice. Repeat other side. Insert 2 loops through a bead (as picture 1 and picture 2 show) using crochet hook size 1.0.
Round 3. Attach yarn to 2 loops with sc. *Attach to next 2 loops with sc*, continue between ** until all loops are connected, 1 sl st opposite side to tighten the gap. End with 1 picot in sl st.
Go to a special place where you feel like you can connect with nature and look for a rock to put inside your crochet pendulum. You can also use gemstones and crystals. The rock will give your pendulum weight which is important for it to work properly.