Tunisian Crochet is regarded as a technique between crochet and knitting.
The picture below shows how to Tunisian crochet for beginners. To do Tunisian crochet you will need an Afghan hook. An Afghan hook looks like a prolonged version of a normal crochet hook, or you can use a long knitting needle.
Tunisian Crochet Tutorial ~ For beginners
Step 1. Make a chain.
Step 2. Insert hook in 1st ch from hook. Yarn over (yo) and pull yarn through chain. You now have 2 loops on hook. Do the same across every chain. At the end of row you have as many chains on hook as your base chain in step 1.
Step 3. Yarn over and pull through first loop on hook. Yarn over and pull through next two loops on hook. Repeat across the row.
Step 4. Repeat the process in step 2.
How to decrease stitches in Tunisian Crochet
Pick up 2 loops instead of 1. Yarn over hook, pull yarn through the 2 loops that you just picked up.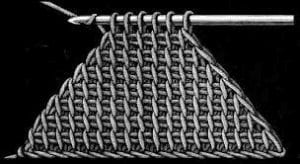 How to Increase stitches in Tunisian crochet
Make a stitch in the horizontal stitch between the 2 perpendicular loops.
Tunisian Crochet Stitch Diagram
This diagram is found on Stitch Works Software website.