How to Crochet Heart Earrings ~ Free Crochet Tutorial.
This pattern creates a heart shaped crochet basket. I had 2 heart shaped motifs that came off my beach slippers and decided to use them in my next crochet project in the new 'from trash to treasure' series.
This pattern uses UK stitch abbreviations. For US pattern, click here. 
Material:
Crochet hook size 3.0
A heart shaped figure to put in the basket (optional)
Crochet yarn between 4-6 ply
Make 2 identical.
Ch 4,
Row 1. 10 tr in 4th ch from hook. Turn.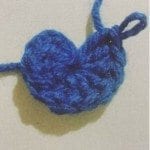 Row 2. Ch 3, 1 tr in next 4 tr, 2 tr in next tr, 1 tr in next 5 tr. Turn.
Row 3. Ch 3, 2 tr in same st as ch 3, 3 tr in next st, *(3 tr in next tr)x 2, ch 3, sk 1 tr*, repeat between ** 3 times, turn.
Row 4. 1 dc in every sts across, 1 picot in 2nd ch of the 3rd 3-ch sp, turn.
Row 5. 2 dc tog across to end. Continue to crochet across the top of heart with 1 dc in 3 tr sps, 1 sl st in 4th ch from row between 1 (middle st) , 1 dc in 3 tr sps, turn.
Row 6. Sl st to sl st row 5, ch 4, sl st in sl st. Fasten off.
Got anything heartshaped? They might look good inside your new heartshaped basket earrings.