How to crochet a feather ~ Free Crochet Pattern.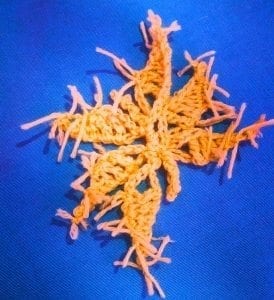 Crochet Materials
Crochet hook size 4.0
Crochet yarn 4 ply, color of your choice.
Sewing needle.
Scissors.
Crochet Feather Pattern instructions
Row 1. *Ch 10, turn, sl st in next ch, sc in next ch, hdc in next ch, dc in next ch, tr in next ch, dtr in next ch, ttr in next ch, ch 3, sl st in 1st ch*, repeat between **, end with sl st in next sl st.
Row 2. Ch 2, turn, sl st in 1st st, repeat row 1.
Row 3. Repeat row 2.
Row 4. Ch 3, turn, 7 sc around chs, sl st through middle of feather, ch 4, turn, 7 sc around ch 3, sl st in sl st. Fasten off.
Reattach yarn in ttr, create a loop using sl st, continue making looks in dtr, tr, dc, hdc, sc, and sl st. Fasten off. Cut the loops so they become single strain of yarn. Tie two and two together to secure the further. Cut them shorter to give featherly look. Repeat process around feather. Fasten off.
Use a sewing needle and yarn and stitch up middle of feather by twisting the middle around to give the feather a firmer look. Fasten off. Weave in ends.