Hairpin crochet necklace with beads tutorial
This is a Native American inspired Heirloom Crochet necklace that I absolutely love. It is decorated with beautiful beads and a large feather. I used a feather bought in the craft store, however you can also use feathered found in nature.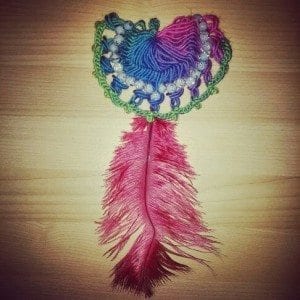 Special stitches: Picot stitch. 
Crochet Materials
Heirloom.
Crochet hook size 3.0 and 1.0.
Yarn: Fayette 60 % Superwash wool + 40 % Polyamide.
A feather.
Beads.
Crochet Hairpin Necklace tutorial:
This heirloom work has 44 loops each side. Use the widest option on the heirloom.
Round 1: 1 sc each loop until 3 loops each side: 3 loops together with 1 sc. 3 loops together every round (each sc ends up one loop above the last as picture 1 shows). After 44 loops each side remove work from heirloom.
Round 2: Connect 44 loops one side with 1 sc + 1 sl st in same sc. 1 picot in same spot (this is where you will attach necklace chain).
Round 3: Crochet across other side of the 44 loops as follows: 2 x 2 loops together with a bead. Use crochet hook size 1.0 to pull the 2 loops through the beads (see picture 2), continue until all 22 pair of loops have a bead on them. *Ch 5, insert hook through 2 loops, pull next 2 loops through previous 2 loops as picture 3 shows, attach with sc in loops you are pulling through*, continue across to end. Turn.
Round 4: Ch 3, picot, *sl st to next sc on top of 2 loops, ch 3-picot in sc*, continue across. Fasten off.
Optional. Attach feather. Insert feather through back of stitch and into bead.
Congratulations you have completed a heirloom intermediate crochet pattern.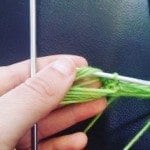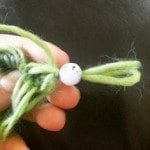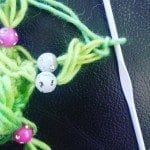 Crochet Tree of Life hairpin necklace pattern
Click here to get this crochet hairpin tree of life necklace.