Free Filet Crochet Pattern ~ Little Birds.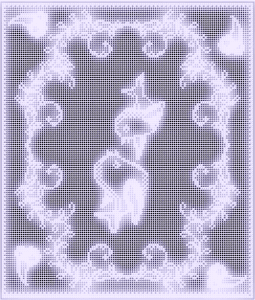 Crochet Materials:
Crochet cotton no 10: About 1755 meters. Steel hook US size 7 or size for gauge.
Crochet Gauge:
Using crochet cotton size 10: 10 squares = 5.8 cm, 10 rows = 6.3 cm.
Approximate finished size:
Using crochet cotton size 10: width = 70.1 cm, height = 89.5 cm.
Filet Crochet Instructions
In this crochet pattern, US term is used. Please refer to the Crochet Stitch comparison chart if you are used to the UK/Australian terminology.
Click here to learn how to Filet Crochet.
Starting from the bottom of pattern chain 361. Chain 3 to turn which will count as first double crochet of first row. Double crochet in 5th chain from hook. Double crochet in next 2 chains to complete bottom right solid square of the pattern. Continue following the pattern for the first row reading pattern right to left. After completing the first row, chain 3 to turn to start next row. Continue to follow the pattern until all rows are complete. At end of row 141 fasten off.
Follow Filet Crochet Diagram Below.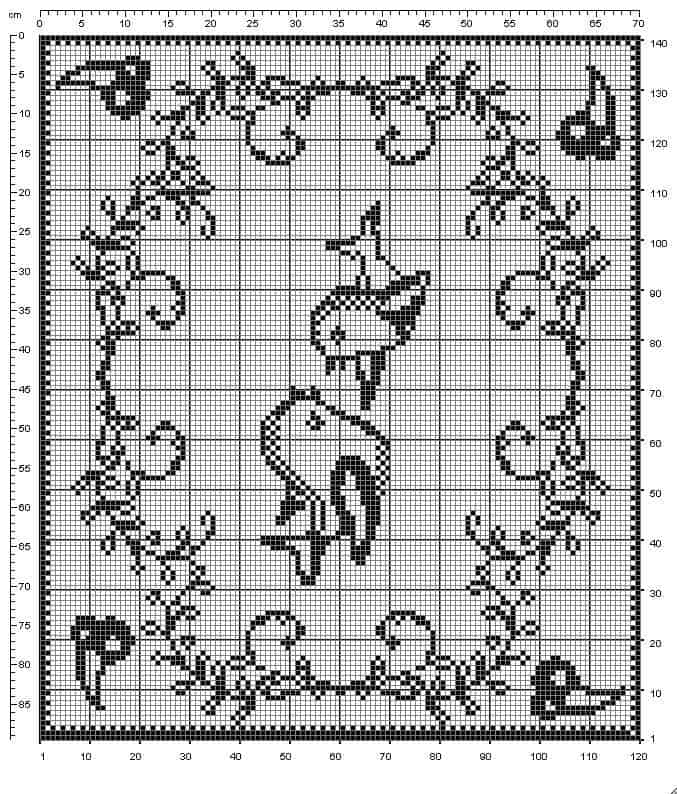 More Free Filet Crochet Patterns
Filet Crochet is truly an artform. You can resurrect a room, even your entire home with filet crochet art pieces. Imagine having little birds filet crochet hanging in your kitchen window with the light from the sun shining through it. You can beat the ambient feel of a filet crochet piece. Yes, they are intricate to make, and you will have to concentrate while following the filet crochet pattern, but the end result is so worth it! Animal motifs do very well in Filet Crochet. Here is another free filet crochet pattern you can make; I named this one Horse Freedom! You can find the pattern here.
More Free Crochet Birds Pattern
Do you love Birds? I certainly do. They are my favorite animals. Many of my crochet patterns have bird motifs. Click on the images below to get the free crochet bird patterns.