Free Crochet Filet Pattern ~ Horse Freedom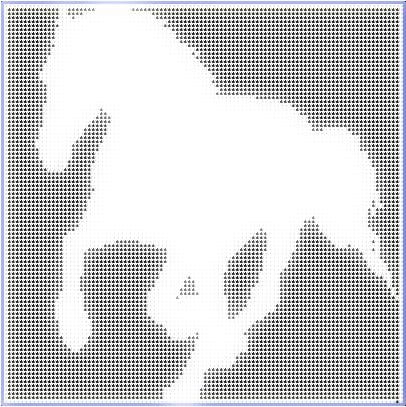 Crochet hook size US 7.
Crochet cotton yarn, 10 ply, about 1140 yrds.
Filet Crochet instructions
This crochet pattern uses US stitch abbreviation.
Ch 301. Ch 3 to turn which will count as first double crochet of first row. Dc in 5th chain from hook. Dc in next 2 chs to complete bottom right solid square of row 2. Continue following pattern first-row reading pattern right to left. After completing first row, ch 3 to turn to start next row. Continue following the pattern until row 100 is complete. To complete pattern, follow pattern diagrams below.
Approx finished size: Using crochet cotton size 10: 23.0 inches wide and 25 inches tall.
See how to crochet a filet pattern here.
Filet Crochet stitch by stitch chart ~ Horse Freedom
In the below chart, you can see stitch by stitch how to crochet this pattern. I suggest you print out this filet crochet stitch chart as well as the filet crochet chart below. It is easier when you have these patterns in paper form for some reason, and it is a lot less strenuous on your eyes when you don't have to look at the computer screen. CLICK ON FILET CROCHET IMAGE TO MAKE IT BIGGER TO PRINT OUT.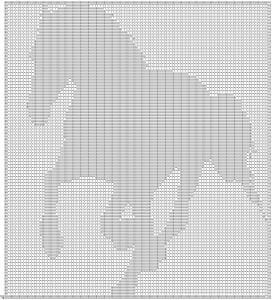 Filet crochet chart ~ Horse freedom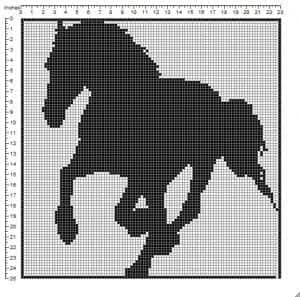 More free filet crochet patterns
I never tire of Filet Crochet pattern. Filet crochet is, in my opinion, a hidden gem in the crochet world. If you are interested in making more advanced crochet pieces, I strongly recommend that you learn this skill. Crochet is therapy, and crochet is art. Crochet is a skill that can change your whole life. It is meditation, and Filet crochet will help you master the art of concentration and meditation. See more filet crochet patterns here.