Crochet Dog ~ Free Pattern
This pattern is a miniature crochet pattern of a dog.
Skill level: Easy
Crochet Materials
Crochet Hook size 2.5
100 % Acrylic Yarn in Blue
Sewing needles
Scissors
Crochet Stitches
Chain (ch)
Slip stitch (sl st)
Half Double Crochet (hdc)
Check out more Crochet stitches in the Crochet Stitch Encyclopedia.
Crochet Dog Instructions
Ch 6, sl st in ch 1 to form ring.
Row 1. 5 sc in ring. Turn.
Row 2. Sc in each 5 sc, 8 more sc in ring. Sl st in next sc. Turn.
Row 3. Sc in sc, sl st in 1st sc.
Row 4. Ch 5, sc in 2nd ch from hook, hdc in next ch, dc in next ch, tr in next ch, 3-ch picot, sl st in tr.
Row 5. 3 sc down tr, sc in dc on ring, sc in next 5 dc.
Begin crochet tail: Ch 7, turn, sc in 4th ch from hook, sc in remaining chs, sl st in next dc on ring. Turn, sl st to tip of tail, ch 3-picot, sl st to last sc on tail, sk sc + dc, sl st in dc on ring. Fasten off. Weave in ends using a sewing needle.
Miniature Crochet
Miniature crochet is a fun way to quickly make new things that you can turn into earrings, necklace, or just some decorations. :)
More Miniature Crochet Patterns. Click on pictures to get the free patterns :)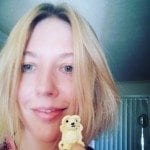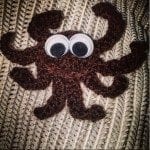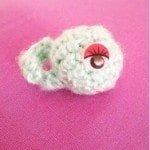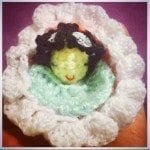 Enjoy making Miniature Crochet :D