Imagine walking down the beach wearing these. :)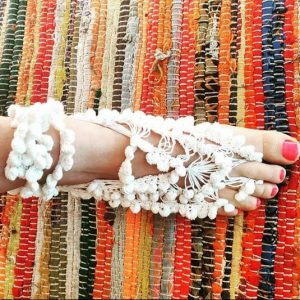 This crochet pattern uses the Hairpin Lace Jewelry pattern for its main sandal part. Click on link or image to get this full pattern.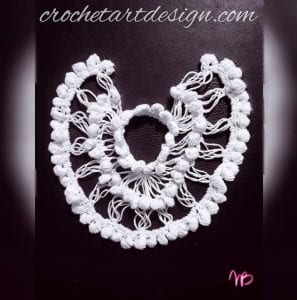 The next part is the Sandal Straps or Cord. It is made using Chainless single crochet cord. The pattern below explains all.
Crochet chainless single crochet cord
How to do the bullion block stitch: Ch 3, yo and insert hook around ch 3, pull through yarn so you have 3 loops on hook, repeat 3 more times, yo and pull through all loops on hook, sl st in same st as ch 3.
149 chainless sc cord. This video explains how you can crochet a chainless single crochet cord.
*1 bullion block st, 1 hdc in next 2 sc, sl st in next st*, rep to end, end with 1 bullion block st in last sc. Attach to Sandal as follow. Stitch bullion block number 65 in corner bullion of sandal. Skip 19 bullion block stitches on cord. Stitch next bullion block stitch after you skipped 19 bullion block stitches to the other corner bullion block stitch of sandal. Slip your foot into the opening and weave your toes into the opening in the front of the sandal. Use the cord to tie around your foot. This pattern uses a lot of Bullion block stitches.