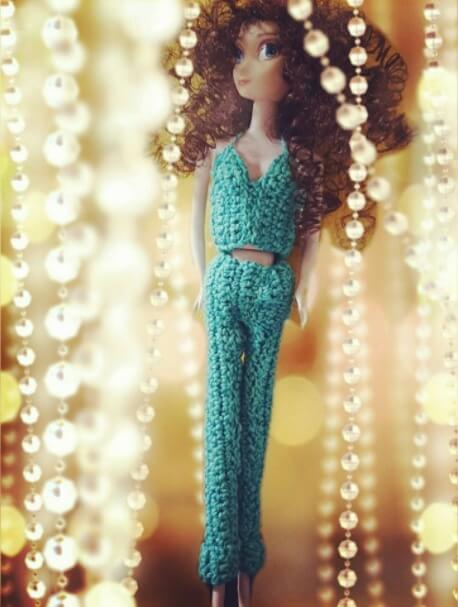 These barbie trousers is part of a FULL and FREE doll makeover project. I have already made the top and this pattern is also free and available on this website. Click on link below to get the barbie top.
To make the barbie crochet top, you can get the pattern for free here.
Crochet Materials
Crochet hook size 1.9 mm
100 % cotton in light blue.
Sewing needle (to assemble and weave in ends).
Scissors
Crochet Barbie Trousers pattern step by step with pictures.
This pattern uses US stitch abbreviation.
Make 2 identical motifs.
Each mortif is one leg of the trousers. Row 12-15 shapes the back and front of the upper part of the trousers.
Row 1. 40 chainless single crochet. Turn.
Row 2-5. 1 sc in each sc. Turn.
Row 6. 1 sc in next 30 sc. Turn.
Row 7 – 9. 1 sc in 30 sc. Turn.
Row 10. 1 sc in 15 sc. Turn.
Row 11. 1 sc in 15 sc. Do not turn.
You will now begin to shape what will be the back of the trousers.
Row 12. 2 hdc in last sc, 1 hdc in each sc up to the top of row 6. Turn.
Row 13. (Skip 1 hdc, 1 hdc in next hdc) x 2, 1 hdc in every hdc to end, do not crochet in the sc. Turn.
Row 14. 1 hdc in hdc. Fasten off.
You will now begin to shape the front of the trousers.
Row 15. Reattach yarn in first sc opposite side (row 1), 1 sc innext 8 sc, turn.
Row 16 – 17. 1 sc in 8 sc. Turn. Fasten off after row 17.
Row 12 to 17 shapes the upper part of the trousers. When you assemble the trousers, stitch row 17 together at the front. Begin stitching row 14 together at the back, but only halfway down the row 14. Tuck the remaining half of row 14 in and stitch to the front trouses.
Wrap the length of trousers around the legs and stitch together. Fold the end of trousers up around the ankles to give the appearence of a heamed seam.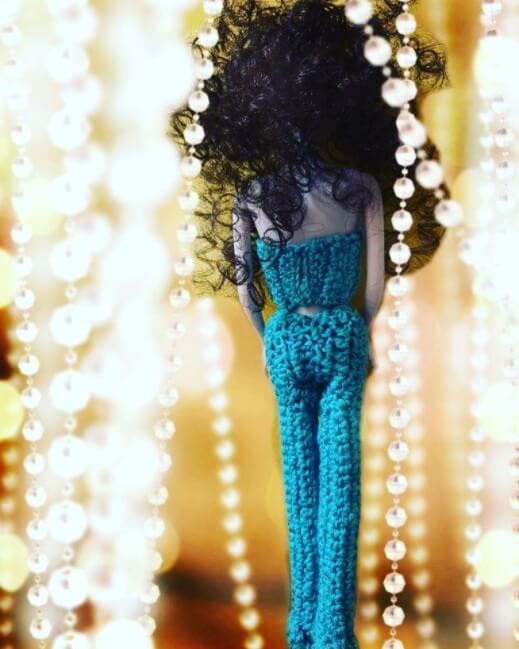 How to crochet barbie outfits
Crocheting Barbie outfits are easy, but you will ahve to use a very small hook and quite fine yarn. I use 100 % cotton and 1.9 mm yarn.
In this post, I gave Elsa a remake. I also made her a wig. In a previous barbie makeover, I stitched yarn directly to the barbie head (see image below), but this time, I made a wig using doll hair.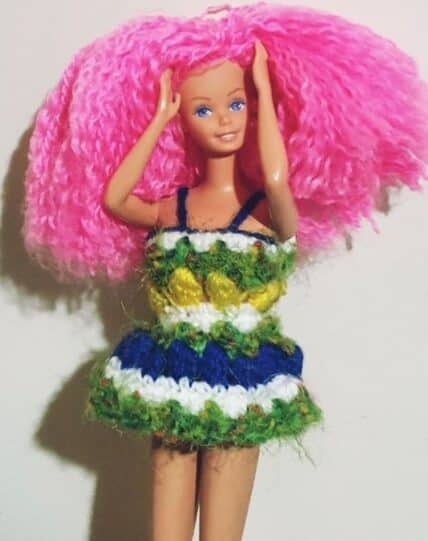 You can get this full barbie makeover pattern and tutorial here.