Crochet Giraffe Amigurumi Pattern
This Crochet Giraffe Pattern uses US stitch abbreviation. Learn about US to UK stitch conversions here.
I always wanted to crochet a Giraffe, however, when I finally did make one, it was totally by accident. I was trying to make something else. I was toying around with it (it was going to be a green succulent) and I realised I had made 4 legs and a long neck. I made the same pattern in yellow and folded it up the way pictures below will show you. Vola! My very own Crochet Giraffe. I love it so much, it even ended up on my Crochet Giraffe based on Cuteness competition. :D
Crochet Materials:
Crochet Hook size 1.25 mm
Crochet yarn: Yellow 2 ply, purple 4 ply, white 100 % cotton, dark green 2 ply, brown felt.
Sewing needle.
Scissors.
Crochet Giraffe Pattern Instructions.
Even though this crochet giraffe pattern started as a succulent plant, I have to say, it is pretty clever. All crochet cleverness is welcome, even though it was a complete accident!
The neck, 4 legs, and body are made in one go. Make two motifs exactly the same. Stack one on top of the other and stitch the sides together.
Crochet Giraffe Neck: Ch 13, 1 sc in 2nd ch from hook, in next 7 chs crochet 1 dc, 1 tr in next 6 chs, 1 dc, 1 hdc, 1 sc. Leave last ch unworked.
Crochet Giraffe Legs: (Ch 10, 1 sc in 2nd ch from hook, in next 7 chs crochet 1 dc, 1 tr in next 3 chs, 1 dc, 1 hdc, 1 sc. Leave last ch unworked. ) x 4
Crochet Giraffe Body: Ch 7, turn, 1 dc in 3rd ch from hook. In remaining chs crochet 1 tr, 1 dtr, 1 ttr, 1 dtr.
Fold up as follows: Fold the legs downwards and point the neck upwards. Secure with stitches to keep in position. Fold the body into a ball and fold over the hole in the middle. Stitch in place using a sewing needle. It will look like the image below. All you have to do know is to crochet head, ears, eyes, horns, tail, and spots.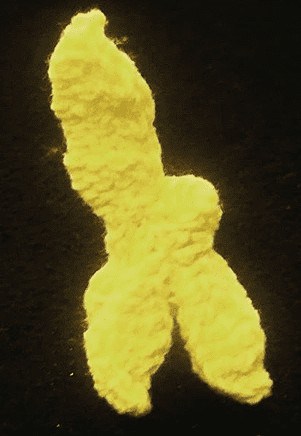 Crochet Giraffe head.
Make two head motifs and stitch the sides together.
Ch 5, sl st in 3rd ch from hook (giraffe horn), ch 3, 1 ddc in next ch (4th ch) on ch 5 cord, 1 tr in next ch, 1 hdc in same ch as tr. Fasten off. Stitch on top of the giraffe neck.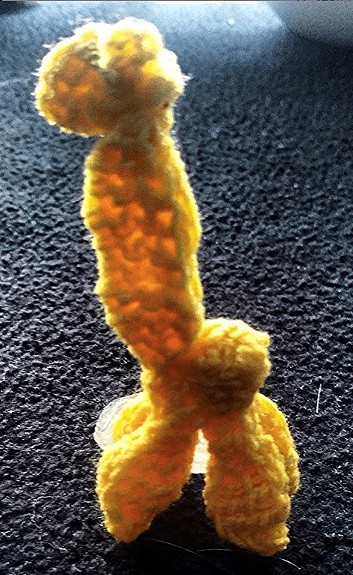 Crochet Giraffe ears.
Make two and stitch to the side of the head.
Ch 3, turn, 2 hdc in 3rd ch from hook.
Crochet Giraffe Eyes.
Make 2 and stitch to head.
With white: Ch 3, 2 hdc in 3rd ch from hook.
Stitch on the pupils with dark green lace yarn. Use yellow yarn and stitch on eyelids.
Crochet Giraffe Tail.
With Yellow yarn: ch 9, turn, 1 sc in 2nd ch from hook, *sl st in next ch, 1 sc in next ch*, repeat between ** to end. Attach to a string of brown felt at the tip. Stitch to back of giraffe.
Crochet Giraffe Spots.
Make 26.
With dark purple yarn: ch 2, turn, sl st in 2nd ch from hook. Stitch into a little ball using a sewing needle.
Use a sewing needle and stitch the spots evenly on the giraffe.
Step by step crochet giraffe pattern.
Sometimes a picture says more than a thousand words.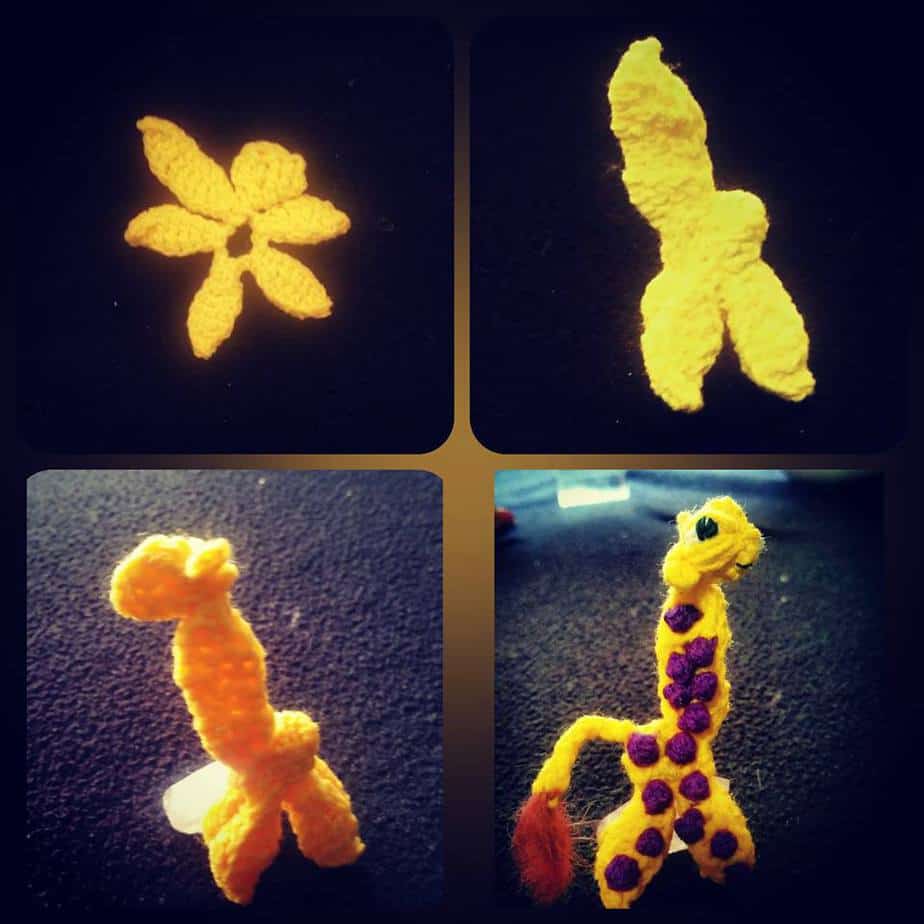 Crochet Amigurumi Patterns
Check out more crochet amigurumi patterns.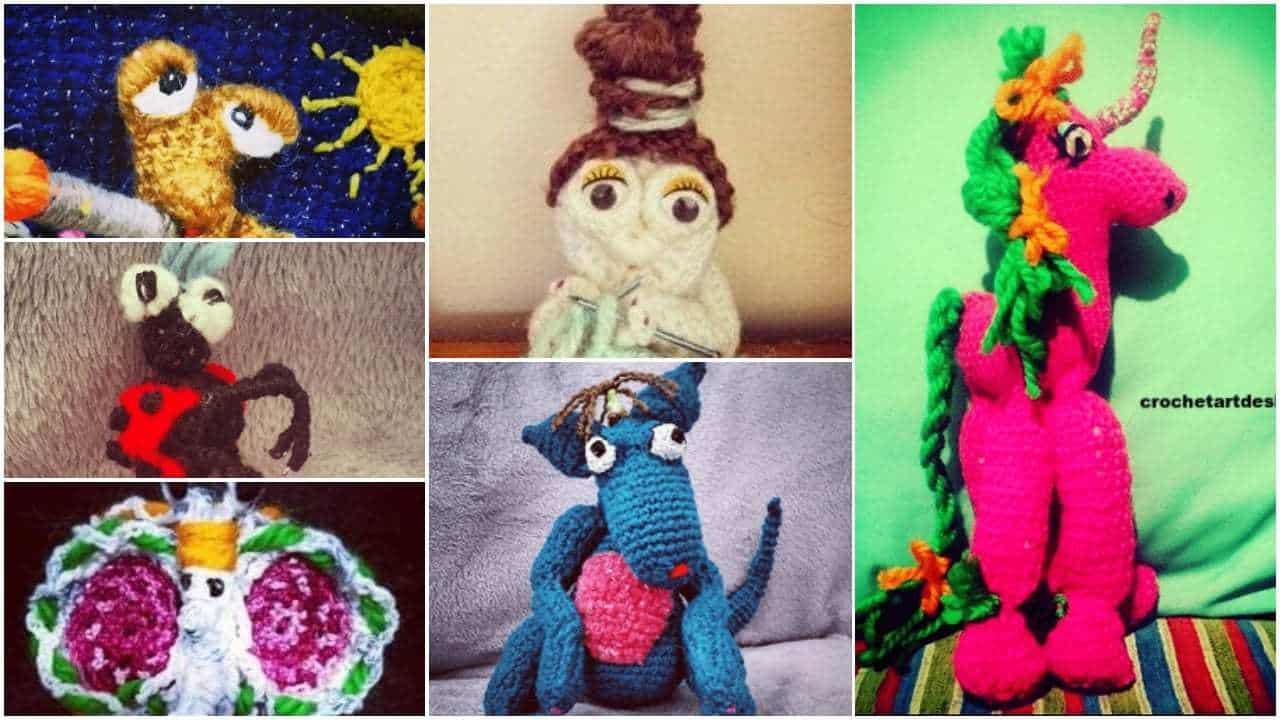 Check out our top 10 Crochet giraffe based on cuteness competition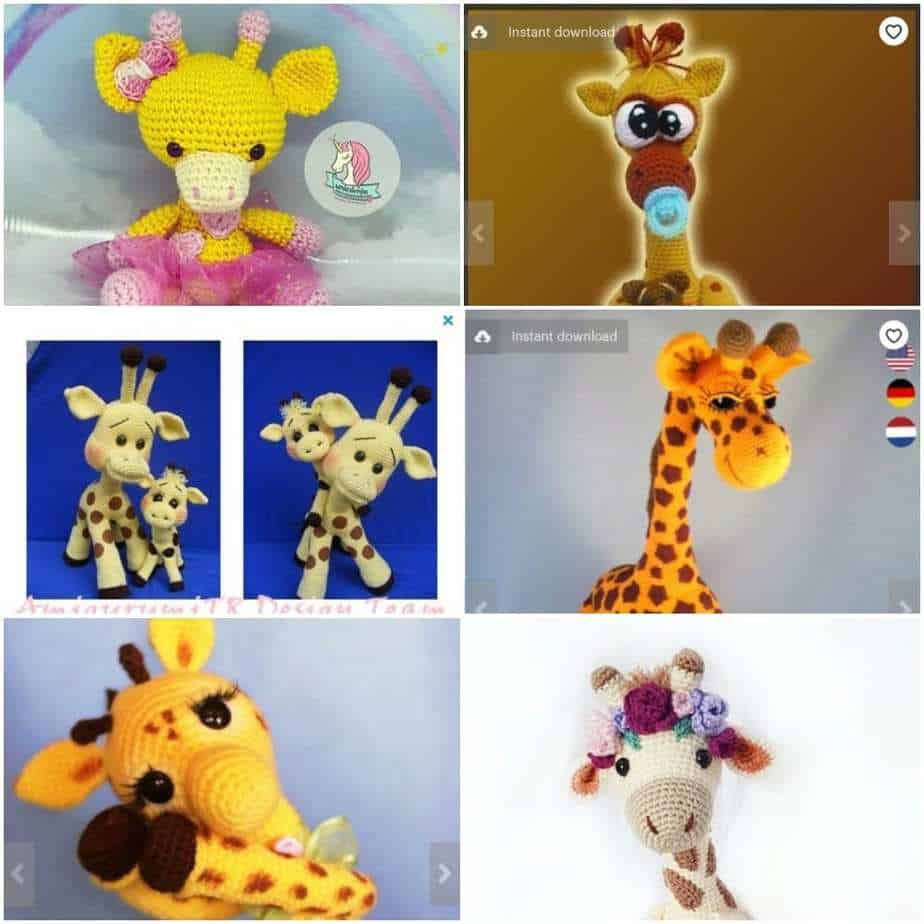 Find out here, and find out which crochet Giraffe won the cuteness competition.
Get another fold up crochet pattern Here.
The crochet kangaroo below was my 2nd attempt at making a green succulent. I still haven't made the succulent, however, the crochet animals keep coming.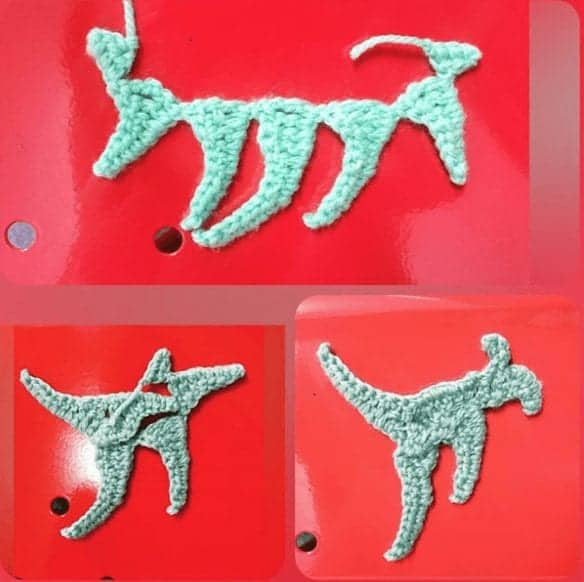 Crochet Giraffe Miniature Pattern
This miniature giraffe pattern is so cute and easy to make. It is tiny and quick to make as well. Get this giraffe pattern here.