How to crochet Doll Leg and Foot
This is a very simple pattern that shapes of an L and is the perfect shape for a doll leg and foot. If you want it to be bigger, you simply use a larger crochet hook and you increase the foundation chains. 
Crochet Material
Crochet Hook size 4.0 mm (any size will do depending on the size of your doll).
Yarn: Yellow 100 % Acrylic.
Scissors.
Sewing needle.
Crochet Doll Leg Pattern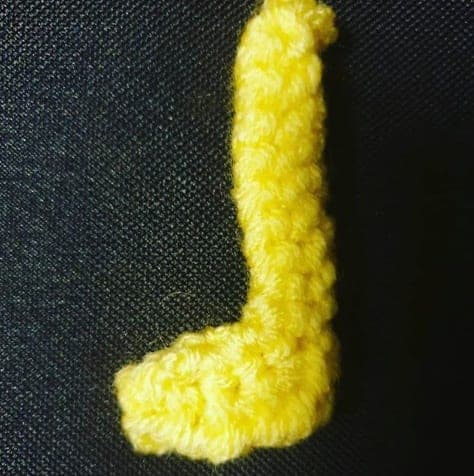 Row 1. Ch 11, turn, 1 sc in 2nd ch from hook, 1 sc in next 6 chs, 2 sc in remaining 3 chs to end, continue crochet underneath: 2 chs in next same 3 chs, 1 sc in remaining chs including turning chs.
Row 2. Sl st in next 10 sc, 2 hdc in next 6 sc, sl st in remaining scs to end. Fasten off.
Fold in half and stitch the sides together.