Sacred Geometry Crochet  ~ Free pattern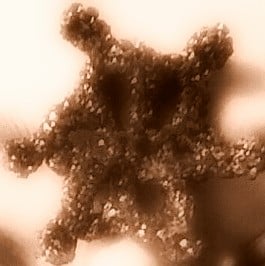 This pattern uses the sacred number 6 to create the sacred number 108. Basically, you will repeat the number 6 x 18 to create the holy number 108.
Crochet Material:
Crochet hook size 1.
Fine yarn any colour you like.
Sewing needle.
Crochet Instructions
This Crochet Pattern uses US crochet stitches. 
In this pattern you will use single crochet stitches, slip stitches, chains, and picot stitches.
Begin by crochet 6 sc over the cord, sl st in 1st sc to form a ring.
Round 1. (Ch 6, sl st in sc) x 6.
Round 2. In each 6-ch sp crochet: 3 sc + 6 ch picot st+ 3 sc.  (All up you have now crochet 108 sts). Fasten off. Weave in ends with a sewing needle.
Attach this motif to your 3rd eye while meditating. You can use vaseline to temporary stick this motif to your 3rd eye.