Top Three Crochet Hair tutorials
Yes you can crochet yourself a whole new hairdo. You will need a latch hook tool and hair extensions. You might also need a helping friend and some spare time. Crochet hair looks incredible realistic and it is a popular way of getting instant long hair (or any length you like).
3. Crochet Braids with Marley Hair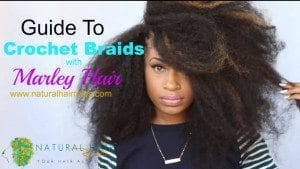 This tutorial shows you the right tools to use, how to prep your hair and precautionary measures necessary. Below is her video tutorial.
2. Crochet Braids tutorial with Fingercomber hair
This tutorial offers great 'how to' pictures and installation guide. It also has a video tutorial you can watch below.
1. Crochet braids step by step
This is my favorite crochet hair tutorial. This tutorial explains how to braid your hair in cornrows, how to install extensions with a latch hook and safely secure the hair. According to this tutorial a full hair with braiding and installation takes about 3 hours.
Why Crochet hair:
Because it is fun. Maybe you need a change. When a woman changes her hair she is ready to change her life. Have a look at CreativeCrochetBraid gallery's different styles you can achieve with Crochet Hair.