Free Crochet Decorated Earrings Pattern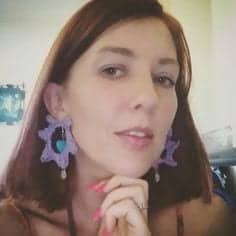 Material:
100 % Wool
Crochet hook size 3.0
Crochet instructions
*Crochet 6 dc over a double cord. Turn. Sk 1 dc, 1 dc in next 3 dc*, repeat 5 times. Sl st in 1st ch 6 to complete circle.
Dc over the foundation cord to the 6 peaks of circle. Picot in peaks. Fasten off.
Attach your favourite earrings by piercing through the wool.