Crochet Amigurumi Crab Pattern ~ A mini crochet pattern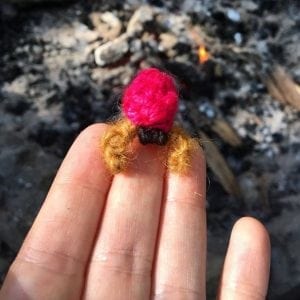 Materials:
Crochet hook size 1.9.
Crochet yarn red, black, and brown in 100 % Acrylic.
Sewing needle.
Scissors.
Funny fact about Crabs: Crab Pregnancies only last 1-2 weeks. They can lay up to 2000 eggs per pregnancy!
Crochet Crab Amigurumi Pattern
This Crab Crochet pattern uses US stitch Pattern.
With Red, Ch 12, turn, 1 dc in 3rd ch from hook, dc in next 5 ch, 7 sc around remaining 4 ch. Roll up from sc side and sl st around sts to secure.
Slip Stitch brown yarn across the belly of crab. Begin crochet crab claws.
Crochet Crab claws (make 2)
With brown yarn, Ch 4, turn, sc in each 4 ch, ch 2, sl st in sc, ch 2, sl st in 1st ch. Wrap some yarn around the end to fold into a claw-like shape. Slip stitch to crab.
Crochet eyes (make 1). 
With black, ch 2, 1 sc in 2nd ch from hook. Wrap yarn between the 2 sts to create 2 eyes, and slip stitch to the body between the claws.
More Free Crochet Amigurumi Patterns
Click here to get more Free Crochet Amigurumi Patterns.
Check out More Crochet Miniature Patterns
Click on image or text to get more Crochet Miniature Amigurumi Patterns. 

Crochet Whale ~ A miniature Amigurumi Crochet Pattern
Click on text or image to get this Crochet Whale Amigurumi Pattern.