Gluten free option available (see notes at bottom of page).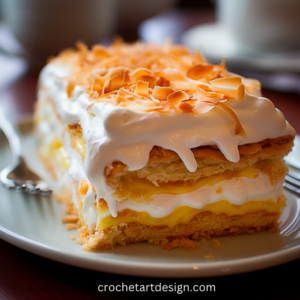 Kvæfjordkake AKA Verdens beste, The World's Best Cake
This is a Norwegian Meringue cake dubbed the WORLD'S BEST CAKE
Ingredients
Ingredients to make the Sponge
1/2

cup

Butter (unsalted)

1/2

cup

Brown Sugar

4

Egg Yolks (large eggs)

1.5

cup

Almond Flour

You can use regular all purpose flour

1.5

tsp

Baking Powder

1

tbsp

Vanilla essence

1/2

cup

Milk
Ingredients to make the Meringue
4

Egg whites (large eggs)

1

cup

Brown Sugar

1

cup

Almond Flakes
Ingredients to make the custard filling
2

cups

Full Cream Milk

1/4

cup

Brown sugar

2

egg yolks (large)

3

tbsp

Tapioca flour

You can also use corn starch

2

tsp

Vanilla essence

300

ml

Thickening Cream
Instructions
Instructions:
Preheat your oven to 350°F (175°C).
Prepare the Cake Batter:
Mix the butter and granulated sugar together until pale and creamy. Add egg yolks one at a time. Mix in the milk. I use the mixmaster on a medium setting for this.

Add vanilla essence, almond flour, and baking powder, and mix until well combined.

Spread the batter evenly onto the prepared cake pan. (Note that the sponge will expand while it's in the oven).
Prepare the Meringue topping:
In a mixing bowl, mix the egg whites on medium setting. Add the brown sugar gradually. Continue until stiff peaks form.

Spread the meringue on top of sponge. You can create peaks with the meringue for visual effects. Spread almond flakes on top.

Bake in the preheated oven for about 30 minutes or until a toothpick inserted into the center comes out clean.
Make the custard filling
Mix egg yolk and sugar in a bowl. Add the Tapioca starch.

Heat the Full Cream milk without it boiling and add vanilla essence.

Add the heated milk to sugar and egg yolk and mix it together.

Heat the mixture on the stove to thicken it.

Whip the cream until soft peaks form. Mix in with the custard.
Decorate the Cake:
When the sponge has cooled down, slice in in two, separating the top from the base.

Gently remove the top layer. Fill the middle with the custard cream. Assemble the top layer(meringue layer) back on top of the cake.

Chill and Serve:

Refrigerate the Kvæfjordkake for at least a couple of hours before serving. This allows the flavors to meld and the cake to set.

Slice and Enjoy:

Once chilled, slice the cake and serve. Enjoy the delicate layers, creamy filling, and crunchy almonds.
Notes
This is a gluten free option. You can of course use normal flour and corn starch if you don't require gluten free.