The Waffle stitch is quite easy, at least once you figured out the edging. All you have to do is to pay attention to the beginning of row 2 and 3 and you will be fine. The Waffle stitch uses a FRONT POST Double Crochet stitch (FPDC). It is called a Front post as it pushes the stitch to the front as you can see.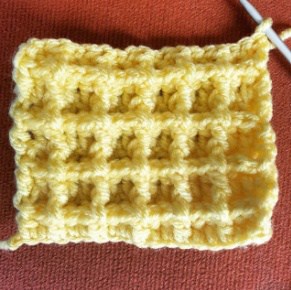 The first thing you have to do is to make a chain that is divided by 3. In my case 15. Then you have to add 4 extra chain for edging. I made 19 chains all up.
Row 1. Ch 19, turn, 1 dc in 3rd chain from hook, 1 dc in each dc to end. All up 18 dc. Turn.
Row 2. Ch 2, 1 FPDC in next dc, 1 dc in next dc, *1 FPDC in next 2 dc, 1 dc in next dc*, rep between ** to end, end with 1 dc in turning chain (or ch 2 in later rows). Turn.
Row 3. Ch 2, 1 dc in next 2 dc, *1 FPDC in next dc, 1 dc in next 2 dc*, rep between ** to end. Turn.
Repeat row 2 and 3 until you have the desired length.
How I used this Waffle Stitch to Crochet Very Cool Barbie Boots
Click here to get the Free Barbie Boots Pattern using Waffle Stitch. To make this pattern, you will use a small crochet hook (1.9 mm) and 100 % cotton blue yarn. :) Doesn't she look like a Million Dollar Babe :). You can get this full pattern here.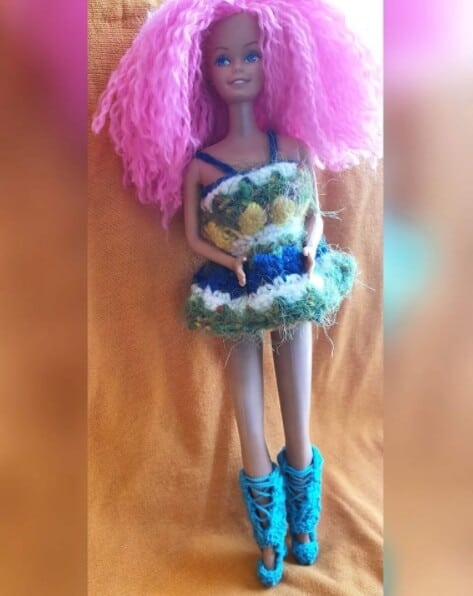 How to Enjoy Crochet to the Fullest
The Best Way to enjoy Crochet to the Fullest is to work on Projects you ENJOY ;) No more Boring Projects haha. I enjoy Amigurumi the most, but I have to say, Hairpin Crochet also gives me immense JOY.
Whats New in 2020
I am doing a Course in how to make Felt Animals. YAYYY. I will let you know how I go. I always wanted to learn how to Felt.
Have fun crocheting!