How to crochet Bobble stitches tutorial
Bobble stitches are made out of several Double crochet (US stitch abbreviation) or tall stitches joined both at the top and the bottom, often surrounded by shorter stitches, and worked on the wrong side.

After crochet many tall stitches in same place insert hook as picture shows. This stitch is often then followed by a sl st or sc in next stitch to give bobble effect.
Free crochet pattern using Bobble crochet stitch
Mobile phone crochet purse.
This pattern uses US stitch abbreviation.
Material:
Crochet hook size 3.0.
100 % wool.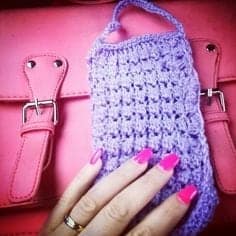 Crochet purse instructions using bobble crochet stitches
Ch 23. Turn.
Row 1. 1 tr in 4 th ch from hook, 1 tr in every ch to end. Turn.
Row 2. Ch 2, *1 bobble st in next tr, dc in next tr*, repeat between ** to end. Turn.
Row 3. Ch 3, 1 tr in every st to end. Turn.
Row 4. Repeat row 2-3 until you have the desired length.
Row 5. Other side: Without cutting off the yarn; ch 23, 1 tr in 4th ch from hook and 1 tr in every ch to end. Turn.
Row 6. Repeat row 5 until same length as other side, connect to main piece with sl st every second row. Sl st other side. You can decorate with bobble stitches along side and use them as bottoms if you want to,
Row 7. Create handle; ch 25, crochet across the cord to other side. Sl st in main piece. Fasten off.