Reindeer Totem Filet Crochet Pattern ~ Shop on Etsy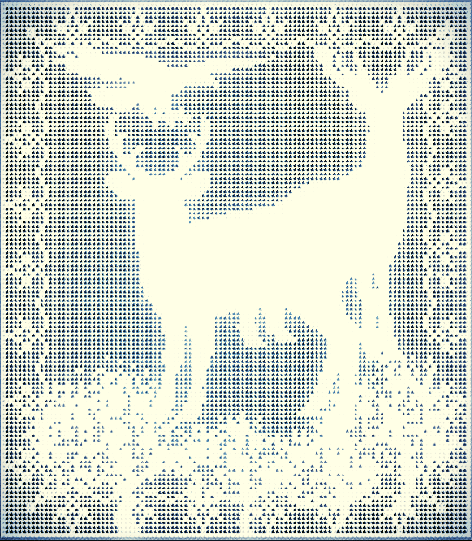 'Reindeer Totem' is a beautiful filet crochet pattern that will look best as a window piece or wall decor with light shining through it. 'Reindeer Totem' is inspired by the Spirit of Reindeers who is resilient and adaptable. This crochet pattern will be instantly downloaded upon received payment and it comes with instructions how to start the pattern and how to read the pattern. It also comes with a Crochet Stitch comparison chart and a Crochet Pattern in Symbols chart. You can purchase this pattern here. 
Crochet Materials:
Crochet cotton no 10. Steel hook US size 7 or size for gauge.
Gauge:
Using crochet cotton size 10: 10 squares = 2.3 inches, 10 rows = 2.5 inches.
Approximate finished size:
Using crochet cotton size 10 and US crochet hook size 7: width = 24.8 inches, height = 30.8 inches.
Learn more about how to Filet crochet here.
Crochet patterns from The NorthernGypsie on Etsy
Check out my Etsy shop items. My Filet Crochet patterns are easy to read with stitch comparison chart and diagrams. Prices are only US $2.50