My First Essential Oils Blend ~ my abundance balm
This article is a blend in more ways than one. Yes, it is about blends, but it is also about tarot, and that is a blend with my other website, TarotIngie. :)
I have long wanted to make my own beauty products. I have collected glass jars and bottles for when I one day will take the time to make myself a product from scratch. I even had beeswax to melt and fractionated coconut oil to mix with it. I also had some very nice essential oils. I asked the tarot cards which of my oils I should add to the beeswax. The beeswax at this stage was melting inside the glass jar. It was sitting nicely in some boiling water.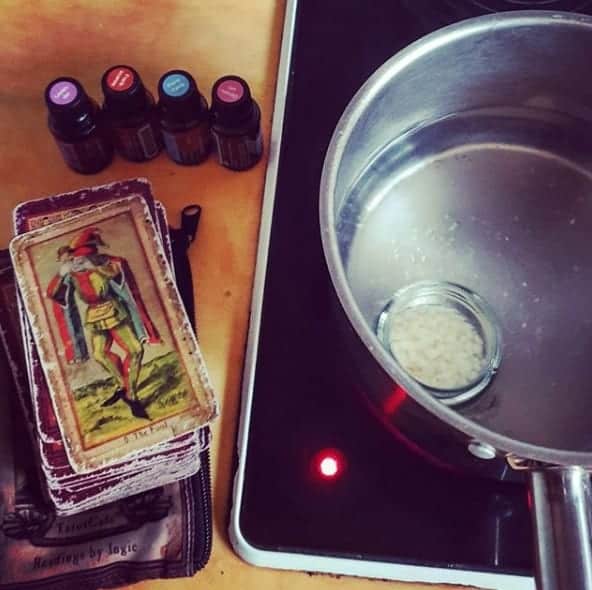 How to make the Abundance Blend
I even pulled out the tarot cards for advice. The oils that were chosen are Frankincense, Ylang Ylang, Lavender, Geranium, and Wild Orange. First I melted 28 g of beeswax and then I added 2 drops of Lavender, 3 drops of Frankincense, 6 drops of Ylang Ylang, 8-9 drops of Geranium, and 2-3 drops of Wild Orange. I added 45 ml fractionated Coconut oil. My two secret ingredients are crushed up Himalayan salt (1 tsp) and 1 tsp of 30 % Salicylic acid. Then I left it to harden up in room temperature. I did not put it in the fridge. Luckily it didn't harden up to the point of it flaking and breaking up. It stayed perfectly like a lip balm. I used it on my lip and also my face. I rubbed it all over my face and then rubbed Rosehip oil on top. This gave my face a Wonderful Glow.
Why call it Abundance Blend?
I asked my tarot cards what I should call my blend and I pulled King of Pentacles. King of Pentacles is King of Cash, thus the name 'Abundance Blend'. Time will tell if it brings me any abundance.